Access to high-performing secondary schools has not improved since 2010, and has become more geographically unequal, according to a report by the Education Policy Institute.
The think-tank compared the availability of places in "high-performing secondary schools" – those with good value-added scores over a four-year period. It found that around a fifth of local authority areas had no such school "within reasonable travel distance of pupils" in 2015, a situation that had not changed since 2010.
There is an"acute shortage of high-quality secondary school places in areas such as the north of England", according to Natalie Perera, the EPI's executive director and a former government adviser.
It is shocking to see that over recent years the access to high quality secondary school places in England has become even more unequal
"No progress has been made in addressing this issue since 2010, and as a result successive cohorts of children in many parts of the country are being let down," she said.
Conservative ministers frequently claim to have improved access to high-performing schools since they entered government in 2010, but the EPI's latest research casts doubt on this assertion.
When discussing improvements to the school system, the government usually focuses on the number of children in schools rated 'good' or 'outstanding' by Ofsted.
But as well as including many  additional pupils in the system as a result of the baby bulge, the government's claims also do not take into account large regional variations.
In fact, access to the best secondary schools has become "more geographically unequal" since 2010, in spite of policies aimed at improving school performance outside higher-performing areas like London, the EPI found.
For example, areas with "consistently good access" to high-performing secondary schools saw the proportion of pupils gaining access to such schools increase from 49 per cent in 2010 to 58 per cent in 2015. Many of these areas are in London.
However, in areas with "consistently low densities" of high-performing schools, the proportion of pupils with access to these places fell from six per cent in 2010 to per per cent in 2015. These areas were all outside London and the south-east, and included Blackpool, Hartlepool, Barnsley, Redcar and Cleveland, Knowsley and Middlesbrough.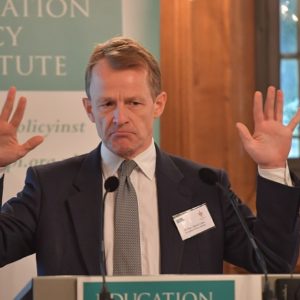 The research also found "large areas of the country in which parents and pupils currently have no access to a high-performing secondary school". For example, the north-east has "virtually no high-performing secondary schools" whatsoever.
Given the wide geographic variation in the density of high-performing school places, the government's £72 million opportunity areas initiative "seems a positive step towards addressing this challenge", the EPI said.
However, as yet there is "no evidence" on whether the policy will be effective. There are also questions about its coverage.
"If opportunity areas are the government's answer to social mobility cold spots, then they are needed in areas such as the north-east of England, where one is yet to be allocated," said Perera.
David Laws, the head of the EPI and a former politician who served as schools minister under both Michael Gove and Nicky Morgan between 2012 and 2015, said it was "shocking" that access to high-quality secondary school places in England had "become more unequal".
"In one fifth of local areas, children cannot access quality secondary school places. Government rhetoric about spreading opportunity is not being matched by experience in areas such as the north, north east and parts of the Midlands," he said.
A government spokesperson did not comment directly on the research findings, instead pointing to the government's investment in opportunity areas, ignoring the criticism of the policy in the research.
The spokesperson also repeated the government's regular assertion that "there are now 1.9 million more pupils in schools rated good or outstanding than in 2010".