There aren't enough good academy sponsors ready to take over the number of failing schools in Lancashire and West Yorkshire, a new analysis of regional school commissioner (RSC) data has found.
Other RSC regions in northern England are also just about managing to deliver enough sponsors, the National Foundation for Educational Research (NFER) found.
However the new analysis, published today, revealed no such problem for southern regions. The South-East England and South London RSC area has more than three sponsors with adequate capacity for every school requiring intervention.
The NFER report says growing sponsor capacity is now a key priority for RSCs, with regional variations in the number of underperforming schools raises "potentially significant problems for tackling school underperformance".
Lesley Duff, NFER's director of research, called on the government to be "circumspect" about introducing further changes for schools until the "full implications and impact" of the new academy system becomes clear.
Today's report is the second study published by NFER into RSC areas. It also revealed the number of schools with poor Ofsted outcomes had decreased since 2014, when RSCs took up office.
But the report stated it is "not clear if this is due to the actions of the RSCs or is a result of other factors".
North-South divide in sponsor capacity revealed
On sponsor capacity, the report found there were 915 sponsors with "accessible additional capacity" compared to 573 schools with an "immediate need" for a new sponsor. That works out as a national ratio of 1.6 sponsors per every school requiring intervention.
However there are stark regional differences – from 0.7 sponsors for every 1 failing school in Lancashire and West Yorkshire, compared to 3.3 to 1 in South-East England and South London (see table right).
The North of England RSC region also just about meets demand,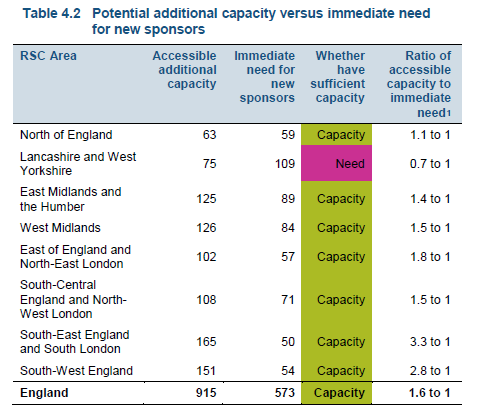 with 1.1 sponsors per every 1 failing school.
But NFER stated many RSCs will struggle matching suitable sponsors, as the capacity and need could be at opposite ends of the large regions they cover.
Researchers suggest one solution could be enticing some of the 1,300 "high-performing" single-academy trusts (SATs) to expand and meet demand.
However, there were large regional variations – with over 70 high-performing SATs in the North of England, compared to more than 250 in South-Central England and South London.
A Department for Education spokesperson said: "As the report acknowledges we continue to build sponsor capacity at a national level but recognise there is more work to do in particular areas. We are continuing to work with the school system to address those challenges."