The government has released the decisions made by headteacher boards between January 16 and February 15. The boards are comprised of between four and eight elected and appointed members and chaired by the area's regional schools commissioner (RSC).
Nearly a quarter of requests to convert schools to become academies were deferred, but none was declined.
More than a quarter of all applications to become academy sponsors were either deferred or rejected over the same period.
The east of England and north east London headteacher board, chaired by RSC Tim Coulson, approved 16 academy orders during the period, the highest number, while the lowest number came from north west London and south central England, where Martin Post's board approved just two.
The highest number of deferrals came from the then south west RSC and now national commissioner Sir David Carter, who deferred decisions on six academy orders to be made by his successor, Rebecca Clark.
Lancashire and West Yorkshire and the West Midlands, chaired by Vicky Beer and Pank Patel, each approved all their academy order applications – nine and eight respectively.
A total of 18 sponsor applications were approved across England, although only one sponsor application was received by each of the south west and south east England and south London boards – both of which were approved.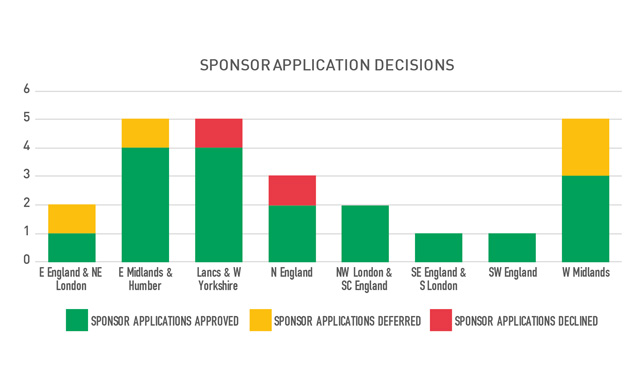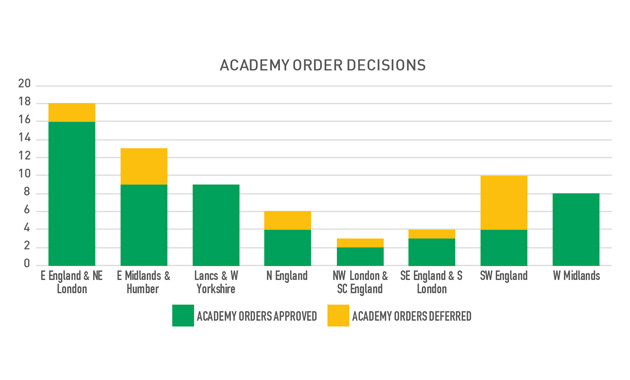 Only two sponsors were declined, including Northumbria Healthcare NHS Trust, whose application was thrown out by the north of England board following discussions about its structure and chief executive appointment.
Lancashire and west Yorkshire also rejected a sponsorship bid from Polaris Academies Trust, after discussing its capacity to improve schools and its track record.
Five Catholic primary schools applied for conversion to join St John the Baptist multi-academy trust in the east of England, and were all approved.
The north of England deferred only two academy order decisions, but one of these was a joint application from six Catholic primary schools applying to form the South Cumbria Catholic MAT. Board members asked for more financial information.
Another group of six schools in Poole, Dorset, hoping to form the Harbourside multi-academy trust, were asked to provide further information on leadership structure, recruitment, governance and school improvement to south west England.
Reasons for deferrals of academy orders ranged from requests for further financial information, to administrative failures with the application, to concerns about the capacity of the trust the schools were applying to join.
In the West Midlands, two sponsor applications were deferred pending questions about areas such as growth, governance and school-to-school support.