An extensive survey of hundreds of school leaders and teachers has been published by the government, six months after it was completed.
The Department for Education's school snapshot survey: winter 2017 interviewed 800 senior leaders and 909 classroom teachers between November 6 2017 and January 17 2018.
Here are some of the most important findings.
1. A third of schools start teaching GCSEs early
Pupils in year nine were expected to start studying for key stage 4 in all subjects in 35 per cent of schools this year, the survey found. Twenty-eight per cent of schools said they would start preparing for GCSEs in some subjects only, and 27 per cent said they would not study towards key stage 4 at all.
2. EBacc entries were expected to increase this year
Based on the survey of school leaders, the DfE estimates that 46 per cent of year 11 pupils were due to be entered for the full slate of EBacc subjects this summer, rising to 48 per cent in 2019.
The prediction for this year represents a rise of more than 7 percentage points on the actual EBacc entry figure for last year, which was 38.2 per cent, a decrease on the previous year. Actual entry figures won't be published until the autumn.
The government wants 75 per cent of all year 10s to be studying the subjects by 2022, rising to 90 per cent by 2025
Fifty-three per cent of leaders surveyed said they expected the proportion of their pupils entering all the EBacc subjects to stay the same in 2020 as it was in 2019, while 36 per cent expect that figure to increase.
3. Most teachers felt prepared for new GCSEs
Schools started teaching a range of new GCSEs last September, and the survey found that 74 per cent of teachers and leaders felt that preparation for the new courses had gone either fairly well or very well.
Thirteen per cent said preparation had not gone well, and 10 per cent did not teach the subjects.
Note: The percentages don't appear to add up to 100. We don't know why that is.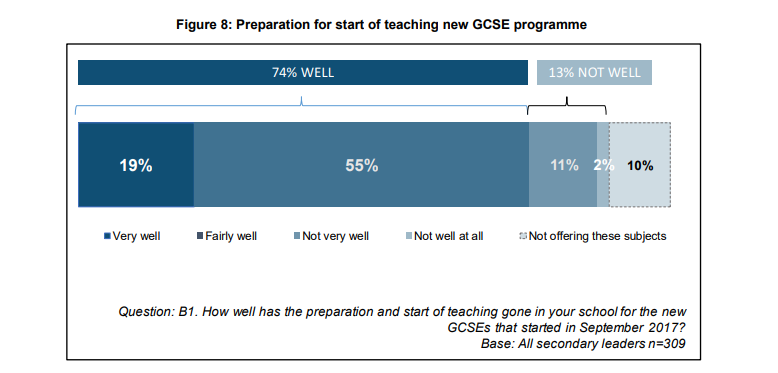 4. Just 6% of teachers weren't confident with phonics
Of the primary school teachers surveyed, 82 per cent said they felt confident using systematic synthetic phonics to teach early reading. Of those, 47 per cent felt "very confident".
Only six per cent of primary teachers said they were not confident using the method, and a further six per cent were neither confident nor not confident. Another six per cent had never used the approach.
5. More than 1 in 10 teachers don't get the curriculum resources they need
Teachers were asked if they are able to access the guidance and resources needed to "effectively plan and deliver lessons that meet the requirements of the national curriculum". 85 per cent said yes, but 12 per cent said no.
Secondary school teachers were twice as likely (16 per cent) to say they did not have access to the right support than primary teachers (8 per cent).
Of the secondary teachers who said they didn't have access to the right resources and guidance, 60 per cent wanted more at key stage 4 level, compared with 21 per cent for key stage 3 and 19 per cent for key stage 5.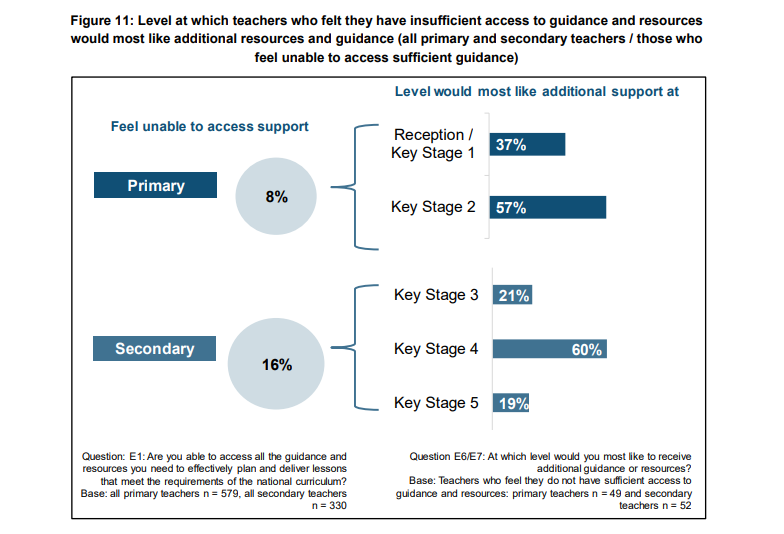 6. Most teachers haven't heard of the DfE's anti-extremism website
The "Educate Against Hate" website was launched in 2016. The site provides advice, support and resources for schools to help them protect children from extremism and radicalisation.
However, the DfE survey found that 54 per cent of teachers and leaders were not aware of the website's existence, and six per cent were "not sure" if they were aware. Just 40 per cent were aware of the website.
Schools' response to the government's prevent strategy for tackling extremism and radicalisation has been more positive.
Ninety-four per cent of teachers and leaders said they were confident in meeting their duties under prevent.
7. 70% of schools already have a mental health lead
Last December, the government set out plans to appoint a mental health lead in every school, with £95 million set aside for the task.
However, the DfE's survey, conducted between November 2017 and January 2018, found that 70 per cent of all state funded schools already have a designated lead for mental health. At secondary level, 83 per cent of respondents said there was a mental health lead in their school, while at primary, 67 per cent did.
Academies were more likely (77 per cent) to have a mental health lead than LA-maintained schools (66 per cent).
8. 4 in 5 schools have done a SEND review
Of those leaders questioned, 81 per cent said their school had undertaken a review of their SEND provision in the 12 months before the survey took place.
Eighty-three per cent of primary leaders had undertaken a review, while 75 per cent of secondary leaders had.
9. A third of schools have had a pupil premium review
Schools can be asked by Ofsted, councils, academy trusts, schools commissioners and the DfE to commission a pupil premium review if "concerns with the school's provision for disadvantaged pupils" are identified.
The DfE survey found that 35 per cent of schools have either commissioned or completed a review from someone external to the school in the past 12 months.
10. The CPD standard is still a mystery for 1 in 5
A new standard for teachers' continuing professional development was published in 2016. It set out how development must be prioritised by school leadership, be underpinned by evidence, include collaboration and expert challenge and be sustained over time.
Seventy-six per cent of leaders and teachers surveyed said they were aware of the standard, but 21 per cent were not aware of it, and four per cent didn't know.
11. More than 3 in 10 consider leaving teaching, but few are actively looking
Thirty-one per cent of teachers and leaders said they were considering leaving the profession.
But of these, just two per cent were actively looking to leave teaching, four per cent were considering leaving "in the next 12 months", and 24 per cent "in the next five years".