Tolworth girls' school and sixth form has three standout students who have beaten the odds to secure places at top institutions across the country.
Despite suffering from a serious illness during her studies, Jess Bush has achieved and A* and two As which sends her off to study veterinary medicine at Nottingham university.
Siobhan Lowe, headteacher at the secondary modern school in Surrey, said Jess worked "really hard" to overcome her added pressure and even with extreme exhaustion, attended school every day to achieve "outstanding results".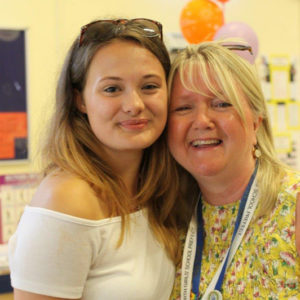 Fellow pupil Rebecca Corbett is off to study music at the Northern Conservatoire in Manchester having achieved an A* and two grade As.
With funds being tight at home, Rebecca had to work every day in the school's café to fund her music lessons. Her hard work has now paid off and she is the first in her family to "show such amazing musical talents".
And Jaspreet Bansel has become just one of two people across the country to secure a place at the Royal College of Needlework having achieved a grade A* at A level and two Distinction*s in her BTECs.
Lowe said: "This is such a rare achievement, the Royal College only offer one or two places per year – students must be exceptional to get in."
Speaking to Schools Week about the success of all of her pupils, Lowe said: "We know that a lot of our students have overcome real adversity to achieve these phenomenal grades, not only students who joined our sixth form new to the UK but also those who have had to deal with serious health problems and family responsibilities, whose determination combined with the care and support of our staff has resulted in success."
Main pic: A delighted Jess Bush opens her results with her family