Aspiring school leaders should be encouraged to work in alternative provision settings before stepping up so they are better prepared to support children with mental and emotional health needs, a new report has said.
The Education Policy Institute has published a new study into the mental health and wellbeing of young people, including how it has been impacted during the pandemic.
Research, collected from virtual focus groups in November, found that 'Generation Z' girls' well-being and self-esteem plummets by age 14.
It comes amid warnings the pandemic could cause long-term damage to the wellbeing of young people.
NHS data from last year found that one in six children aged 5 to 16 had a probable mental disorder, up from from one in nine in 2017.
Schools Week has rounded up the key policy recommendations …
1. Set-up a £650m wellbeing funding
The EPI says this package – which would match the academic catch-up funding – would allow schools to hire additional staff to deliver mental health support to pupils and teaching staff.
This money could also help "run interventions" to address socio-emotional skills' gaps, improve links with the local children and adolescent mental health services (CAMHS) and deliver training to teachers.
The funding should be targeted to schools with disadvantaged intakes and a high proportion of children with special educational needs and disabilities (SEND).
2. More mental health content in curriculum
Researchers say this could include the impact of "convention beauty standards" spread by advertising and on social media on body image, particularly for girls, and "address the stigma young people may face for having different body types of gender expression".
The report suggests the content could be included as part of the Health Education and Relationships and Sex Education curriculum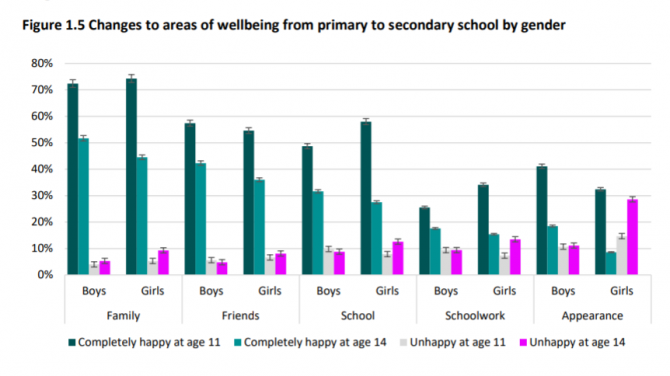 EPI research found that while 11 per cent of boys are unhappy with their looks, this increases to 29 per cent for girls as they move into adolescence.
Mindfulness and other evidence-based techniques to support good mental health should also be promoted, they say.
3. School leaders should spend time in AP
School leaders' capacity to support children with mental and emotions health needs should be improved, EPI say.
One suggestion is for leaders to spend time in alternative provision as part of ongoing CPD, or prior to beginning a leadership role.
"The majority of young people in AP struggle with mental or emotional health difficulties," the report states. "It is crucial for leaders to know how to best support children with additional needs including how to employ trauma-informed approaches in the classroom, and to be able to cascade this knowledge to teaching staff."
Researchers also recommend local mental health support teams should deliver training in all areas to school staff to ensure that support is "embedded" across the school community.
4. Evidence-informed policy to tackle bullying
This should include clear plans for funding delivery and accountability, the EPI says. Researchers suggest it could involve more "evidence-based guidance" from the Department for Education for schools on preventing and tackling bullying.
The EPI added the guidance "should be statutory to comply with Equalities legislation when bullying is based on protected characteristics, such as race, gender or (dis)ability – and/or changes to Ofsted's inspection framework.
"Evidence shows that interventions which create understanding of and accountability for harm caused by bullying are more effective than punitive action: these include anti-bias training, bystander intervention training, peer support programmes and restorative approaches."
5. A 4-week waiting time for mental healthcare …
The EPI says the government should publish a plan to achieve a four-week waiting time for specialist mental healthcare across the country, including "clear" details on funding and staff requirements.
"Increasing access to timely care must continue to be a priority for those children who need it, and the government should make clear when and how all children in the country will be able to quickly access the treatment they need."
A study by EPI last year found that, while the average median waiting time to begin mental health treatment has fallen by 11 days since 2015, children still waited an average of two months (56 days) to begin treatment in 2019.
6. … and support to reach children before 'crisis point'
Researchers say the government should increase funding to local mental health providers to allow them to better identify and work together to support children with needs which don't meet diagnostic thresholds.
They add that current thresholds for access to specialist mental health treatment are high, meaning that many children have to reach a "crisis point" before being able to access care.
7. Develop cross-government strategy on reducing poverty
The EPI says that a cross-sector and cross-government strategy to reduce family poverty could reduce the burden of mental illness and poor wellbeing in the population as a whole.
The DfE and Department for Health and Social Care have been contacted for comment.