There are more than 20,000 entries for the A-level 'resits' this autumn following the government's summer grading debacle, new data has revealed.
Exams regulator Ofqual revealed today the upcoming exams have 20,100 entries, representing three per cent of the total entries in the summer exam series.
The autumn resits follow on from the disastrous summer exam period which saw the government U-turn on its grading policy after it was revealed nearly 40 per cent of final grades were downgraded from centre assessment grades (CAGs).
Following the U-turn in August, pupils were given the option to receive their CAGs or to sit an exam in the autumn if they feel this grade was unfair.
Maths and science subjects were the most popular entries for the autumn A-levels – with mathematics accounting for around 20 per cent of total resits at 4,190 entries.
A further 3,300 entries are for chemistry and 2,995 for biology.
Of the 20,100 autumn entries, 43 per cent were categorised as 'other': which included private candidates, or those who attended institutes such as colleges of higher education and special schools.
This represents a huge leap from those entered for the summer exams when these pupils made up just 1 per cent of the cohort.
It's likely this rise is mostly made up of private candidates – who have been especially hard hit by this year's grading system.
Private candidates are often home-schooled and therefore not enrolled at a school when they sit their exam. This meant many did not receive CAGs as exam centres did not have enough evidence of their abilities to provide a grade.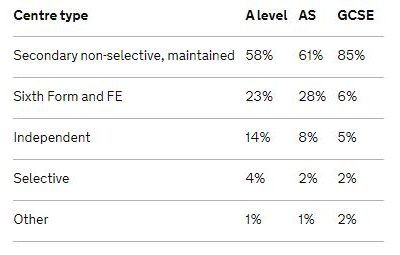 Meanwhile, 23 per cent of Autumn A-level entries attended maintained secondary schools, compared with just 10 per cent from independent schools.
As such the proportion of pupils from these centres dropped from the summer entries where 58 per cent were from a maintained secondary and 14 per cent from an independent school.
Earlier this week it was announced that some pupils who cannot sit these additional autumn exams face waiting another year to get a better grade.
Contingency guidance for the resits states that as in normal years schools can apply for special consideration to be awarded if pupils are unable to attend exams.
Under these guidelines if a candidate has completed a minimum of 25 per cent of the assessments in the subject they are resitting – they will be awarded a grade.
However, not all qualifications have multiple exams and others are spaced within just days of each other. The guidance adds: "It is possible that some candidates will, very unfortunately, be unable to attend any of their exams.
"Those candidates who take less than the minimum necessary assessments and therefore cannot be awarded a grade in the autumn series will have the option to enter exams in summer 2021."