Pupils at a Nottinghamshire primary are being encouraged to walk a mile every day following the installation of a new, purpose-built path.
The £14,000 path at Gotham primary was officially opened by Paralympian and bronze medallist Alison Patrick in October. She then led pupils on their first lap.
Pupils are encouraged to either walk or run their way around the metre-wide path, with eight laps totalling one mile.
Inspired by Scottish schools, headteacher Sue Lymn-Brewin decided to implement a daily mile in her own school, successfully pitching the idea to governors.
"The idea came from an article I read about schools in Scotland who have a daily mile. You can do it at whatever speed you like, so you can be a walker
or a runner. If you're a runner run, if you're a walker, come with me because I'm walking."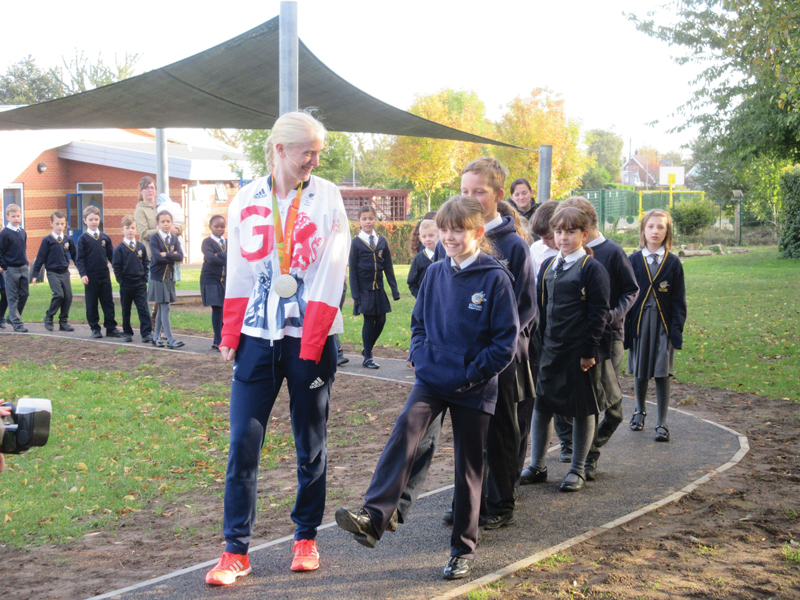 Lymn-Brewin is leading by example, swapping her heels for walking boots, which she keeps in the office ready for whenever she has a moment to walk a lap.
Pupils are taken out periodically for up to 15 minutes, allowing them to do as many laps as they can before they go back to class.
The new path encourages pupils to exercise outside of PE lessons, without having to leave the school premises.
Lymn-Brewin said: "I wanted to create a space without leaving the school site. That was really important to me, because if you take children off site you have to get special permission, you have to look at your ratios of adults to children, you have to take your first aid kit . . . it becomes a big thing.
"We've got a lovely big field so I said surely we can have a path that does a mile."
Featured picture: Paralympian Alison Patrick leads students and staff on their first lap