There are now 11 'system leader' academy chains in England, but almost a third of academies are still operating within single-academy trusts, new research has revealed.
A report released today by the National Foundation for Education Research (NFER) shows that 11 trusts are now over the 30-school threshold to become one of the government's 'system leaders' – chains which are expected to play a 'broader role' across the country.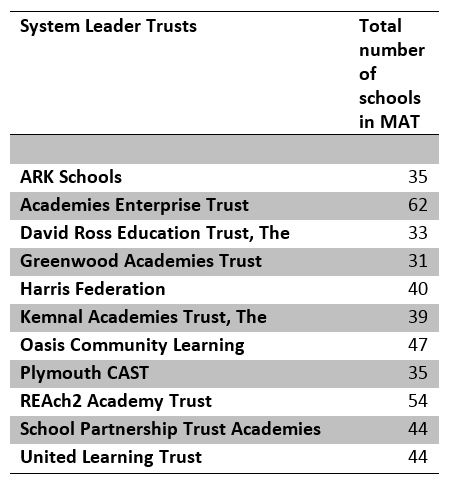 The numbers have swelled because the Ark, Harris and Greenwood Dale Foundation Trust chains now have more than 30 schools each, but it is unclear if this change means their role across the system will immediately change.
But one school leader has questioned the government's focus on academies risks "limiting capacity".
Russell Hobby, general secretary of the National Association of Head Teachers, said system leaders should be drawn from all types of school, not just academies.
He said: "It seems to me that system leaders come in all shapes and sizes – and many different types of school.
"There are system leaders in maintained schools and small schools and good rather than outstanding schools. We should be more interested in the quality of work and the moral commitment to helping others than any particular title.
"While we limit our attention to leaders in MATs we also limit our capacity unnecessarily and expose ourselves to the risk that some of them turn out to have feet of clay."
The news follows an admission by one schools commissioner that not all of the system leaders were yet playing their intended role in the schools system.
Jenny Bexon-Smith, the regional schools commissioner for east midlands and the Humber, told the education select committee last month that some of the system leaders "aren't yet stepping up and delivering that wider system leadership".
In March, a Schools Week investigation revealed a mixed picture in the eight trusts originally elevated to the top rung of the academies system by the national schools commissioner Sir David Carter.
Two trusts – Plymouth CAST and Reach 2 – could not be included in the analysis of performance because so few of their schools had been inspected between conversion and the time of the research.
A subsequent focused inspection by Ofsted found that six out of 10 of Plymouth CAST's schools were inadequate, and the chain is now receiving help from an adviser to south west commissioner Rebecca Clark.
The research also shows that despite a focus on multi-academy trusts as the preferred model of school structure among commissioners, almost a third of academies are still functioning alone as part of single-academy trusts.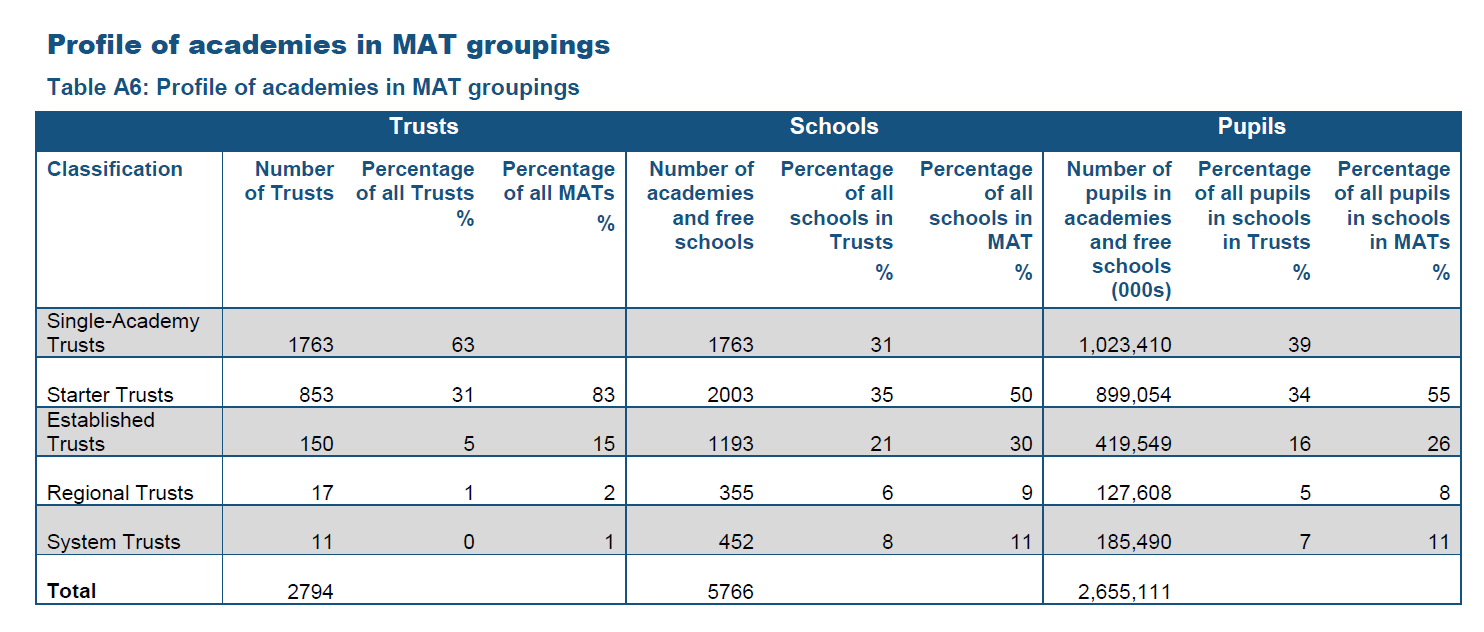 Single-academy trusts make up 63 per cent of all trusts, and run 31 per cent of schools. The only type of trust with a larger proportion of schools is starter trusts – those with up to five academies in the same region – which are currently responsible 35 per cent of open academies nationwide.
21 per cent of academies are in established trusts, which have between six and 15 academies in the same region. 6 per cent are in regional trusts, which operate across regions with between 16 and 30 academies each.
Just 452 academies, 8 per cent of the national total, are in system trusts.