We need a debate about the future of education post-Covid-19, but that shouldn't mean a rush to abolish things like GCSEs, writes Tim Oates.
A lot has changed over the past year. The effect of Covid has been seismic for individuals, industries and countries around the globe. But there is now hope that mass vaccination will arrest the rate of infection and save a great many lives.
While crises can create positive opportunities for change, their reverberations can damage well-laid foundations
Yet we may only just be starting to feel some of the shockwaves created by the disease. While crises can create positive opportunities for change, their reverberations can damage well-laid foundations. This is our worry for education here in the UK and around the globe.
Few aspects of the current education and assessment landscape have escaped attention. Some think the national curriculum should be scrapped or that textbooks are a thing of the past. Secure, well-grounded evidence says otherwise.
And then there are the calls to cull GCSEs.
Exams have been a 'national success'
GCSEs and A-levels have been an extraordinary national success. They have been long-lived and valuable precisely because they have repeatedly adapted to changing educational and social needs over the past 50 years.
There is no reason to think they cannot evolve again, driven by the very best evidence about quality.
As external, independent assessments, they are entirely in line with the high stakes assessment present across other leading education systems around the world.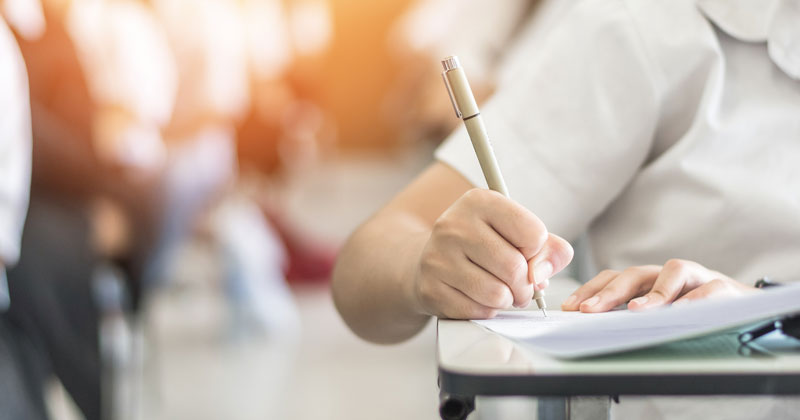 And they do a lot more than just provide internationally-trusted grades, they provide comprehensive programmes of learning, clarity in expectations and attainment standards, present motivating goals, offer quality assurance of education, support fair admissions and so on.
Any change in assessment would also need to support these key functions.
It sounds a complex set of demands, but that's what a developed system needs.
Without attending to this, urges to abolition could leave serious gaps in our educational arrangements, and add even more disruption to that already stressing us all.
Debate is needed, but changes mustn't add workload
Cambridge Assessment and Cambridge University Press have been long-term supporters of debate about the future of education, reflecting our mission, to contribute to society through the pursuit of education, learning and research at the highest international levels of excellence.
We have considered how recent educational policy has influenced our standing in international surveys, on the events of 2020 and early 2021, and from research and reflection have developed a set of outline principles (see below) that we believe will help all those that are interested to continue the debate around teaching, learning and assessment.
Urges to abolition could leave serious gaps in our educational arrangements, and add even more disruption to that already stressing us all
We recognise that the priorities right now are getting young people back into schools, implementing effective recovery learning, and managing the demanding task of determining grades for those young people due to receive qualifications this summer.
Without adding to workload or detracting from these priorities, we would like to begin to lay out the evidence and views which can provide robust building blocks for our educational future.
As part of our effort, we will be curating a series of blogs and online debates over coming months through which we will dissect important areas such as the importance of the essential role of teachers and schools, textbooks and other learning materials, approaches to the curriculum and assessment, the role of cognitive science, and the welfare of young people, as well as approaches to learning and schools themselves.
We hope you will take the opportunity to engage with us, and in doing so, help reaffirm foundations where appropriate, draw from our national experience of interrupted education, and establish the grounds for new approaches that can truly stand the test of time.
Our principles for the future of teaching, learning and assessment
Early literacy and numeracy are vital foundations for broad and balanced learning
Curriculum coherence – the alignment of curriculum content and standards, teaching practices, learning resources and assessment – remains fundamental to high equity and high attainment for all learners
Curriculum and its assessment, and all other requirements, should be a manageable load for all teachers
Effective learning should be built on variety, using a well-managed mix of adaptable approaches and modes
Excellence in teaching and elevated attainment can be supported by well-designed and carefully-chosen technology that can support teaching and attainment
Well-trained and well-supported teachers are central to high quality pedagogy, high attainment and the well-being of learners
Evidence and cognitive science should inform teacher practices
Access to high quality teaching and learning materials is essential for high quality, manageable education at all ages
Dependable assessment is vital for social justice, learning support and equitable progression
Clear standards are important for equity, accessibility and progression for all learners
Equity and high attainment can be achieved hand in hand
First and second language skills are essential for all learners, including English as the language of international communication.