See the latest SATs data from 15 Dec, 2016: Fewer primary schools fall below the floor standards and 7 key findings from the 2016 primary league tables 
Original article:
Provisional results of the primary school key stage 2 SATs tests broken down at local authority and regional level have been released by the Department for Education (DfE) this morning.
This is the first year that scaled scores replace "levels". To meet government expectations, pupils must achieve 100 in their scaled scores, as opposed to the old expected standard of level 4.
We found out in July that just half (53 per cent) of year 6 pupils met the new expected standard. The DfE has today confirmed those results and again stressed that this figure is not comparable to last year – when 80 per cent of pupils achieved a level 4 – because of changes in the national curriculum and accountability framework.
Here are the key points from today's new data.
1. Local authority data shows big differences in performance across the country
London continues to dominate the top spots for pupils who achieved the expected standard of 100 or above in reading, writing and maths this year. The following two tables show the authorities with the highest (left) and lowest (right) scores.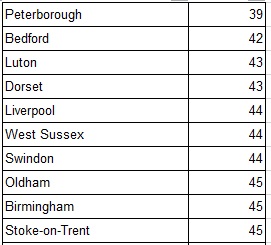 2. Some local authorities have dropped scores
Although the results are not directly comparable, we can identify whether authorities have moved up or down as a result of the new scaled scores system. Kensington & Chelsea and Richmond Upon Thames kept their top spots but have dropped more than 20 percentage points of pupils achieving the expected standard under the new system. This is less than the national drop, which saw the overall percentage of pupils achieving the expected rate move from 80 per cent to 52 per cent.
Redcar and Cleveland, which had a pass rate of 86 per cent last year, dropped to 59 per cent – falling out of the top 10.
The below two tables show the highest performing authorities for 2015 (left) and 2016 (right).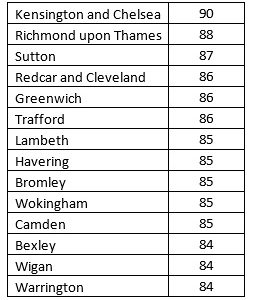 Medway, the authority with the lowest pass rate last year, has performed much better under the new system and has moved 32 places higher with 48 per cent of pupils now achieving 100 or above.
Dorset, Liverpool, West Sussex, Swindon, Oldham and Stoke-on-Trent, all authorities that did not feature in the lowest scoring table last year, have dropped into the bottom 10 under the new system.
The below two tables show the lowest performing authorities for 2015 (left) and 2016 (right).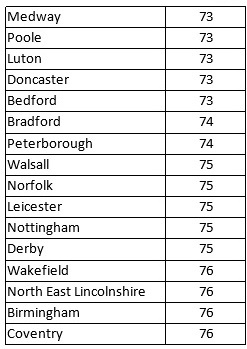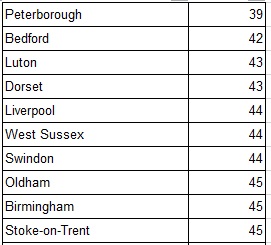 4. Academies performed similarly to local authority schools
There are minimal differences in outcomes at academies compared to local authority maintained schools – although, overall, local authority maintained schools performed slightly better – by 1 per cent across almost all areas. Converter academies – those rated good or outstanding by Ofsted at the time of conversion to academy status – have a higher percentage of pupils achieving the expected standard than the average for all mainstream schools.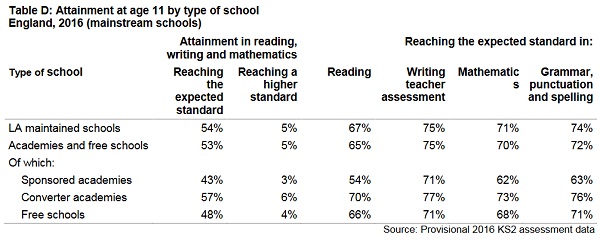 5. Girls outperform boys in all areas.
For reading, writing and maths, girls achieved 57 per cent compared to 50 per cent of boys. The gap is largest in writing.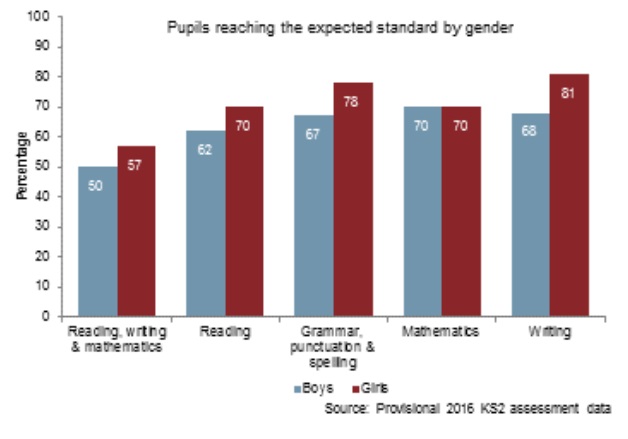 6. Schools minister Nick Gibb said the results show schools are meeting "high standards"
Schools minister Nick Gibb said that thanks to the country's new focus on "raising standards", the majority of pupils have performed "well" in this year's tests.
He added: "These figures show that many schools and local authorities have risen to the challenge and have delivered high standards but we want that success to be the standard everywhere. We have made great strides with over 1.4million more pupils in good or outstanding schools than in 2010 but the government's objective is to extend that opportunity so every child has the excellent education they deserve."
Save
Save