Ofsted has taken aim at Reading Council over GCSE results, despite the fact three quarters of secondary schools in the borough are academies.
The Labour-controlled council has been warned it still has a "key responsibility" for standards in Reading's secondary schools, six of which are now academies, with just two still local authority maintained.
Bradley Simmons, Ofsted's new regional director for the south east, has written to the council to share his "concern" about GCSE results in Reading's secondary schools – in particular the low achievement of pupils entitled to free school meals – and called for "political will" to improve outcomes.
A key concern raised by councils over government plans to force all schools to become academies by 2022 has been the further removal of powers from town halls, and questions remain over the role of local government in a fully-academised system.
Prominent Conservative politicians are among those to have expressed fears, and the issue is likely to form part of the debate this afternoon when MPs consider the government's plans in parliament for the first time.
In Reading, the proportion of pupils achieving five GCSEs between grades A* to C including English and maths fell from 59.3 per cent in 2014 to 57.5 per cent in 2015.
But more significant was the drop in results of free school meals pupils, for which the borough is ranked 141st out of 149 councils nationally.
Last year, just 23.8 per cent of pupils eligible for free school meals achieved the five-GCSE benchmark, a seven-percentage-point drop from 30.7 per cent in 2014, described by Simmons as "unacceptable".
Schools Week analysis has revealed that just two of the area's secondary schools – both academies – saw drops of four or more percentage points in their GCSE results for free school meals pupils between 2014 and 2015, while one of the council-maintained schools saw its results rise significantly and the other saw a drop of just two percentage points.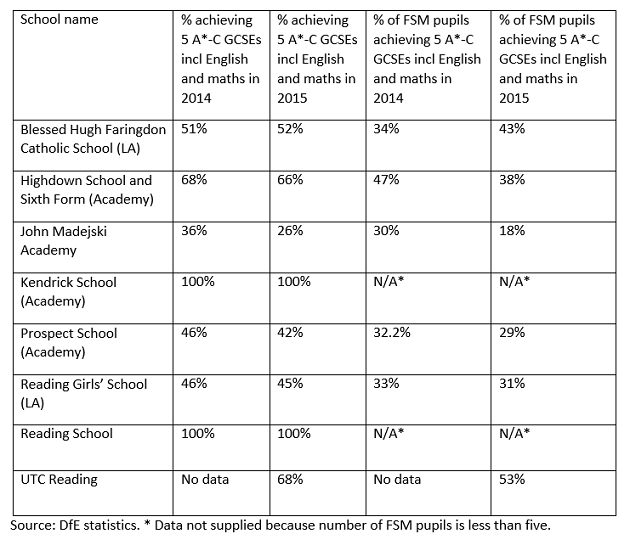 John Madejski Academy saw the percentage of its pupils getting five A* to C GCSEs including English and maths drop from 36 per cent in 2014 to 26 per cent in 2015. The proportion of free school meals pupils achieving the same benchmark dropped twelve percentage points, from 30 per cent to 18 per cent over the same period.
And although overall benchmark results for Highdown School and Sixth Form Centre dropped just two percentage points, from 68 per cent to 66 per cent, the decrease for free school meals pupils was much greater: 47 per cent to 38 per cent.
At Prospect School (also an academy), the drop overall for the same period was from 46 per cent to 42 per cent, while its free school meals pupils' results dropped from 32.2 per cent to 29 per cent.
Tony Jones, the council's lead member for education, has expressed surprise over Simmons's demand for "political will", adding that it was "more the type of question I would have expected from a politician rather than a civil servant in the run-up to an election".
Jones said Reading intended to improve its results, and claimed "hugely disappointing outcomes" at the John Madejski Academy and Reading Girls School were pulling the results down despite "excellent" outcomes at Kendrick and Reading School.
He added: "The Ofsted letter further strengthens the council's decision to establish a school-led improvement partnership which seeks to improve schools across the town to good or outstanding by 2018 and to significantly raise and close the gap in attainment for all at the same time."
In his letter, Simmons acknowledged that in the face of increasing numbers of academies, the responsibility for driving improvement "does not rest solely with the local authority".
But he added: "Nevertheless, I trust you will recognise that, whether pupils attend an academy or maintained school, the local authority has a key responsibility to act as a champion for its most vulnerable pupils.
"I would be grateful if you would consider, with headteachers, officers and councillors, how Reading will demonstrate the political will necessary to raise the aspirations of, and improve outcomes for, your most vulnerable pupils."
Additional reporting by Sophie Scott.