The benefits of sharing information with parents are enormous, but it's difficult to know where the time might come from — teachers are already working more than 55 hours a week, says Nansi Ellis
Teachers and school leaders know that children learn best when there is a strong partnership between school and home. Research suggests two broad strands to this partnership: parents' engagement in the life of the school, and their involvement with their child's learning at home and school.
PTA UK is understandably frustrated by many schools' attempts to engage parents with the life of the school. But parents are busy people and making time to respond to surveys or to help with school trips often falls to the bottom of the pile. It is equally frustrating for teachers when attempts to develop partnerships meet with little response.
Parents often express concerns about the lack of regular information. But teachers aren't trained in newsletter production or web design, and even in schools where parents can volunteer those skills, creating the content takes time.
Wouldn't it be lovely if employers allowed parents time off to get involved with their child's school?
It's also hard to engage parents face-to-face. Finding time during the school day for an important chat means losing a break or stepping out of class; meetings after school take up important preparation time. Many parents can't get into school until the early evening, leaving teachers having to extend their working day and to miss out on their own family time.
But teachers do this, regularly holding parents' evenings, curriculum meetings, school concerts and governing body and PTA meetings until 9pm and later. But they can't come into work late the next day, and coming in tired can mean that children's learning suffers.
Home-school links are often well-developed in early years practice. Teachers here talk regularly to parents about what their child is working on, perhaps because there isn't much written work to see.
As children grow, schools sometimes try to use homework to engage parents with their children's learning. Unfortunately, the pressures of tests and targets can mean that homework becomes an added burden: a fight with your child to do a piece of work that you don't understand well enough to help with and they can't remember enough to do on their own.
Developing family learning programmes can help to support children's learning, at least in English and maths. Parents are taught techniques to support their child and encouraged to improve their own skills.
Proper planning is vital. Teachers need training, particularly in engaging with parents whose backgrounds are different to their own. It also takes time, and time, for teachers, is in short supply.
We don't underestimate the amount of support that parents can provide. Wouldn't it be lovely if employers allowed parents time off to get involved with their child's school?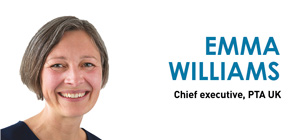 Parents, carers, grandparents who come in to share skills and experience are a lifeline for the busy teacher. And it's great when parents get a real view of school life rather than just the showcase assemblies and concerts.
To be real partners in their children's education, it's vital that parents understand how schools work: that they see the hard work that goes into teaching children, developing good behaviour and good learning habits; that they appreciate the frustrations caused by lack of money or not enough teachers.
That's when parent partnerships need to become a community and school partnership. As we move towards a general election, parents must ask questions about how the government and their local MPs will support their schools.
Teachers and school leaders know they could do more to engage parents. What we really need is to understand what sort of partnerships parents want.
That's where organisations like PTA UK can really come into their own: creating channels of communication and supporting engagement that makes sense to parents, and best supports their children. In the end, it's what we all want.
Nansi Ellis is assistant general secretary responsible for policy at ATL